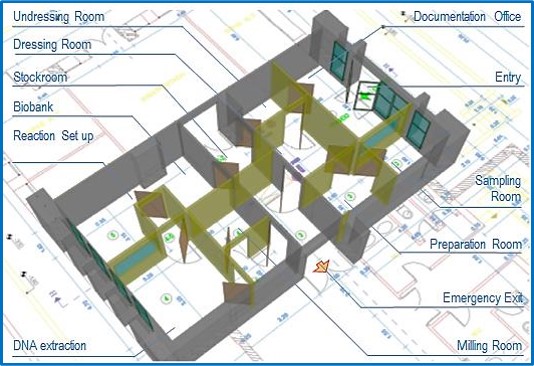 The Ancient DNA Lab is one of the most modern laboratories in Europe, it has been constructed under the highest technical standards and it complies totally with the strict, international requirements of forensic labs:
Isolated building. The lab is located in a building isolated from other laboratories that analyze DNA (DNA-free building), whereas all the construction materials have non-biological origin.


Restricted and supervised access. The access in the lab is restricted only to the specialized staff.


Appropriate room arrangement. The lab rooms are properly designed and arranged following a gradient of cleanness in order to minimize the transportation of DNA from the environment to the cleanroom and the samples. For this reason, there is gradual atmospheric pressure among the rooms.


Ventilation via HEPA filters. The lab is equipped with HEPA (High Efficiency Particulate Air) filters that are able to remove microparticles and allergens with high efficiency (99.97% of particles bigger than 300 nm).


Sterilization. The lab rooms and its equipment is sterilized after each use with specialized chemical agents and in everyday basis using an automatic UV-light mechanism.


Removal of pollutants and fumes. Special mechanisms are used to discard pollutants originated from sample drilling, as well as reagent fumes.


Exclusive equipment. The equipment of the lab is new and is used exclusively to analyze ancient DNA.


Clothing. All the clothing consists of materials of non-biological origin. It includes suits, masks, foot protection, boots, boot covers, sleeves, gloves, eye-shields etc. in order to avoid or minimize sample contamination with exogenous DNA.


Consumables. All the consumables are of forensic grade and stand for the highest quality and purity.


Sample handling – Protocols. Both sample handling and protocols used are following the standard and certified procedures of ancient DNA analysis, in order to minimize contamination and at the same time to maximize the potential of extracting the most reliable results and conclusions.