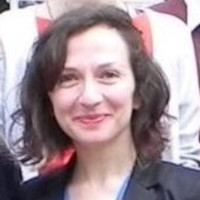 Οστεοαρχαιολόγος - Βιοαρχαιολόγος
BA, MA, PhD
CV

Συν.ΕΥ  NEOMATRIX

Email: Αυτή η διεύθυνση ηλεκτρονικού ταχυδρομείου προστατεύεται από τους αυτοματισμούς αποστολέων ανεπιθύμητων μηνυμάτων. Χρειάζεται να ενεργοποιήσετε τη JavaScript για να μπορέσετε να τη δείτε. 
Argyro Nafplioti has a first degree in Archaeology from the University of Ioannina, Greece, and an MA and PhD in Bioarchaeology from the University of Southampton, UK. She was the first to employ strontium isotope analysis to archaeology in Greece and also published the first map of bioavailable strontium isotope signatures in this context. She was also the first in Aegean archaeology to combine strontium with other isotope systems (oxygen, carbon, nitrogen, sulphur).
Her research addresses major archaeological questions of culture change, population connectivity and interaction, mobility, migration, palaeodiet, palaeopathology, and social variation. She has been the leading bioarchaeologist of more than 30 joint projects, museum exhibitions and excavations in Greece, Albania, Turkey, Jordan, Malta and the UK. She has been funded by numerous institutions, including the European Commission, the AHRC (UK), the British Academy, and the Greek Institute of State Scholarships (IKY). She has held several post-doctoral posts and recently completed at the University of Cambridge a Marie Curie Individual Fellowship and a British Academy Research Grant on the population history and absolute dating of early mortuary contexts of Crete using multi-isotope analyses and AMS radiocarbon dating. She is currently co-PI for NEOMATRIX at IMBB.
She has published over 30 peer-reviewed journal articles and book chapters. She is an Expert Evaluator for the European Commission, the NSF (USA), the Social Sciences and Humanities Research Council of Canada, a reviewer for a number of international scientific journals and a member of the editorial board of three of these.